Australia Tourist Visa
Australia Tourist Visa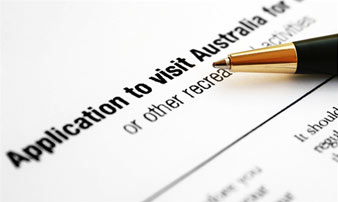 Australia is a wonderful place to vacation. Whether you are travelling simply for pleasure or to do a little business, you'll enjoy Australia's beautiful landscapes and fun culture.
Depending on your citizenship, you may need a visa to visit Australia. Your citizenship, the reason for your visit and the length of your stay will determine what type of visa you will need. The following are Australian visitor visas:
ETA Visitor. A three-month visa for people of designated countries.
eVisitors. A three-month tourist or business visa for Europeans.
Tourist Visa. A 12-month tourist visa.
Family Visitor Visa. A 12-month visa for people visiting Australian family.
ETA Visitor
This three-month Australian tourist visa is titled the ETA (Visitor) (Subclass 976) visa. ETA stands for the Electronic Travel Authority which is an online system that manages these short-term visitor visas. These visas are relatively simple to acquire, there is no visa stamp or label to be placed in a passport nor any application forms. Most ETA visas are granted automatically in an online process through the ETA.
European Visitors
European tourists visiting Australia should apply for either a Tourist Visa (Subclass 676) or Temporary Business Long Stay Visa (Subclass 457). Both of these visas fall under the eVisitor category.
To be eligible for an eVisitor visa, you must be from one of the following countries:
Andorra
Austria
Belgium
Bulgaria
Cyprus
Czech Republic
Denmark
Estonia
Finland
France
Germany
Greece
Hungary
Iceland
Ireland
Italy
Latvia
Liechtenstein
Lithuania
Luxembourg
Malta
Monaco
The Netherlands
Norway
Poland
Portugal
Romania
Republic of San Marino
Slovak Republic
Slovenia
Spain
Sweden
Switzerland
United Kingdom - British Citizen
Vatican City
Tourist Visa
The Tourist Visa (Subclass 676) is a temporary stay visa that does not allow you to work in Australia. Apply for this visa only if you are not eligible for an eVisitor visa or an ETA Visitor visa.
Family Visitor Visa
If you are travelling to Australia to visit family, you should apply for the Sponsored Family Visitor visa (Subclass 679). To be eligible for a family visitor visa, you will need your Australian citizen, Australian permanent resident or eligible New Zealand citizen relative to sponsor you.
IMMIGRATION DIRECT helps you complete your application quickly and accurately, provides 24/7 email support, telephone support
Monday-Friday: 9 a.m - 6 p.m. and automatically generates all the forms you need for your application.